Wine Events
Thousands of grape varieties which, in combination with different climates, soil types and not least the uniqueness of each individual winegrower, produce an almost infinite diversity of wine styles, qualities, traditions and trends.
Looking for a tour guide? Vinovision offers individually prepared events and I will be more than happy to accompany you on your pleasurable journey through the world of wine.
Based on many years of experience and well-researched, up-to-date facts, Vinovision provides you with everything you need to know about the magical beverage, without losing sight of it's true purpose: Enjoyment.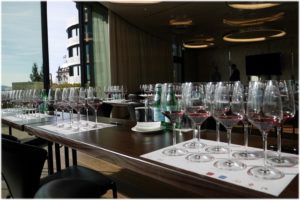 Assorted Topics
Learning more about wine never gets boring and every little niche in the wine world offers excitement and fascination. Here are just a few examples of typical directions a wine event can take:
…and much more. Do you have have any other favourite topic regarding wine? Just ask!
For more information, inquiries and offers, please contact me here.
Hospitality in absolute perfection. The exceptional status of this oasis of well-being is further underscored by its beautiful location high above Lake Zurich. Excellently equipped rooms and suites, culinary highlights in several restaurants, perfectly arranged seminars and festivities, as well as the Premium Spa area leave nothing to be desired. When it comes to design and execution of wine events, Vinovision is the partner of choice.
Find out more about the Panorama Resort & Spa Feusisberg here.
In this place, wine and pleasure are being lived. Thus, the impressive wine cellar under the restaurant is not just a storage room for thousands of exquisite wine bottles, but also a place that can be used for exciting wine tastings in more than appropriate surroundings. Our cooperation therefore goes far beyond the management of the cellar: Vinovision regularly invites wine lovers from near and far to celebrate joie de vivre and to share their thoughts in this temple of good taste.
Find out more about Wunderbrunnen here.